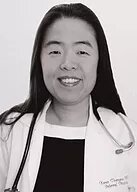 Dr. Karen Thampoe
Owner & Medical Director
As an internal and family medicine doctor, Karen Thampoe, MD, provides comprehensive health care for adult and geriatric patients at West Houston Internal Medicine in Katy, Texas and is the owner and Medical Director of Katy Medispa.
Dr. Thampoe received her medical degree from St. George's University School of Medicine in Grenada, West Indies.
She completed her hospital internship at Long Island College Hospital in Long Island, New York, then finished her residency at Maimonides Medical Center in Brooklyn, New York.
She is very commited to helping all of her patients achieve the most radiant, youthful, and natural appearance possible. Dr. Thampoe's philosophy is rooted in the idea of restoring and rejuvenating your natural features maintaining natural looking proportions.
Dr. Thampoe participates in continued education to increase her knowledge, perfect her skills and learn from the Best Medical Providers in the Aesthetic Field.