Dermal Filler Treatment in Katy By Expert.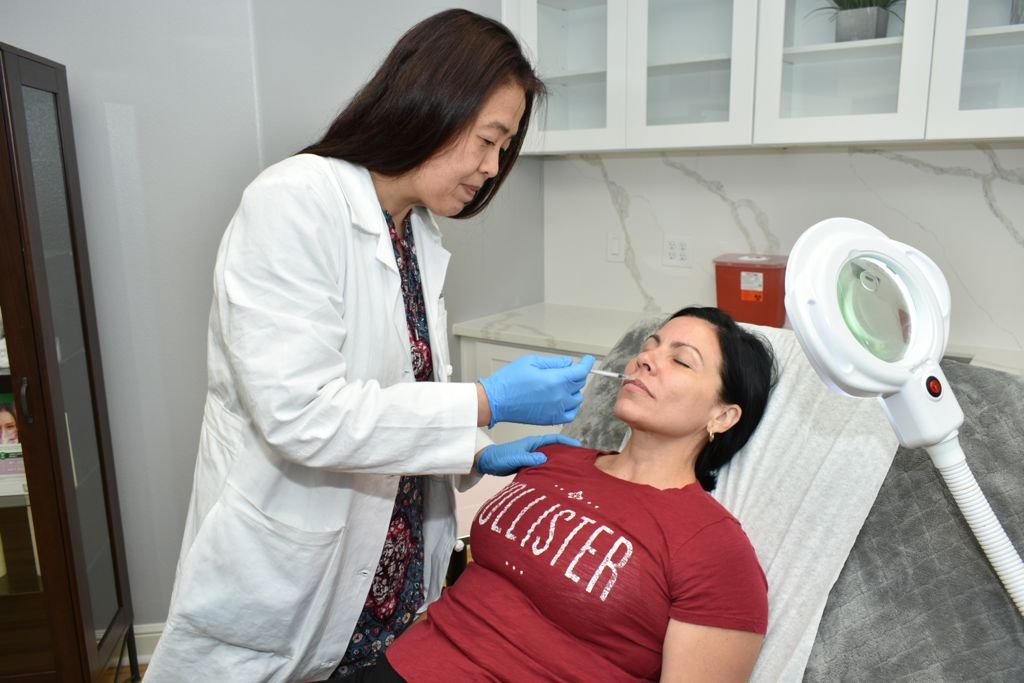 ALL ABOUT DERMAL FILLER
TREATMENT IN KATY
Fillers are made of Hyaluronic Acid, which is a substance that your body produces already and can be found in your skin.​
We use FDA-approved, brand-name fillers, which are only available through a licensed physician.
fillers are injected beneath the skin to restore lost volume, smooth lines, soften creases, or enhance facial contours.​
Areas where are most commonly injected:​
marionette lines & smile lines
Cheeks or temples to Enhance & restore volume
tear throughs
vertical lip lines (smoker lines)
lips (to Plump & enhance volume and shape)
chin crease or chin augmentation​
fillers can be injected in different areas during one or more sessions to achieve symmetry and facial balance.​​
The results are temporary, lasting 6 to 12 months or longer before the body gradually and naturally absorbs the particles.
We are conveniently located in 21238 KingslandBlvd. Katy, Texas 77450 and serving the greater Houston area.
GENERAL INFORMATION: 
FREE CONSULTATION IS AVAILABLE
What are Dermal Fillers made of?
Your face develops wrinkles, folds or lines quite often because of subdermal fat's loss. Even though we concentrate a lot on our weight loss, fat loss under facial skin's dermal layer makes us look older.  For that reason, Dermal Fillers are used to get rid of those wrinkles and folds. They can also be used for increasing the volume in lips.
Dermal Fillers are mainly available in injectable form in syringes and look like a gel. Each syringe has no more than 1ml dermal filler in it. Dermal fillers are made of different substances including Hyaluronic acid, Calcium hydroxyl apatite (CaHA), Poly-L-Lactic acid and Polymethylmethacrylate (PMMA). Most of these substances are natural which is why dermal filler is a safe option. You can use these fillers under eyes and you'll surely see the effect of these dermal fillers before and after their usage.
How to use Dermal Fillers under eyes and for lips?
The use of dermal fillers depends on the number of sites at which dermal fillers need to be injected. The entire process of using fillers for lips and under the eyes takes 20-60 minutes. Dermatologists inject it into dermis at different points, specifically at the spots where wrinkles are visible. Fillers are also injected around the lips for increasing lip volume.
After the completion of this procedure, you will experience:
Swelling
Redness
Bruising
However, before using these fillers for lips and under eyes, take a test to see if you're allergic to it. Dermal fillers don't usually affect the skin tone which is a plus point.
Benefits of Dermal Fillers
For increasing the lip volume, filler for lips is injected under epidermis on top or lower skin layer. It also tends to end the wrinkles around:
The procedure as well as the benefits vary based on the kinds of fillers used for eyes or lips. This is because one kind of fillers in one piece are different in quantity as compared to the other. So, the usage also becomes different.
Cost for Dermal Fillers
You may let the wrinkles surround your face because of the cost but that's not a great option. The cost is pretty less as compared to many other treatments. You can just search "Dermal Fillers near me" and get rid of folds and lines.
The cost for dermal fillers is quite affordable. So, don't waste any time and get your treatment done to avoid further problems.
How to cope up with the effects of Dermal Fillers before and after their usage?
You must have an idea about the pre-treatment of these fillers. Before using Dermal fillers, you should avoid a few things such as:
Don't take aspirin or any blood-thinning substance before the treatment
Smoke less Tobacco
Contact your doctor about the use of skin care products
However, after the treatment, contact the dermatologist to inform about the pain you're suffering from (if there is any). Apart from that, there is no such thing to avoid before or after the use of dermal fillers.
Dermal Fillers Treatment in Houston, Texas
Whenever you meet someone, the first thing being revealed about you is your face. So, you must keep it clean and free of wrinkles. For that, contact a dermatologist and get the treatment done within a small amount. Just click on www.katymedispa.com and book your appointment now!